Once again showing themselves to have little to no grasp on reality, "The National Alliance", a white supremacist party based in Robert Byrd's own West Virginia, distributed fliers throughout Eagle County, CO, telling white women not to have sex with black men.
ESPN.com reports that the group's efforts were in response to the Kobe Bryant sexual assault case, who inundated the area with 2,000 fliers, "headlined 'Don't have sex with blacks.' They listed the names of three black men and accused them of lying about carrying HIV when they slept with white women."
Apparently, while the worst charge that could be brought before the group is littering, the stunt proves that they are, after all, their own worst enemies (something for which I'm sure we are all thankful). ESPN provided this analysis:
So there's this group of guys who could have been extras in "Deliverance", out to recruit more members into their Thousand White Mountain Men organization. Seeing an opportunity, they decide that they're going to go to this small town, where half of the reporters in North America are camped out with nothing to do, drop a bunch of racially-motivated fliers all over the place, and effectively set the stage for Mr. Bryant's defense team to move the trial outside of the predominantly white, working-class town into a more metropolitan area for fear of jury tampering. The end result, of course, will be that he is found to be innocent of the charges, securing a great victory for white power.
What's that? Come again? How does this help these jackasses? Maybe that's how all race-bigot-revolutionaries think. Remember the Manson Family? Their plan was also a monument to idiocy:
"Ok guys, here's the plan. There's a race-war-a-comin', but it's taking too long to arrive, so we're going to go hack up some Hollywood types and write anti-white slogans on the wall which will encourage blacks in this country to rise up, so that we can go hide out in the desert and re-emerge after all the bloodshed, and start our hippie-nazi utopia. Just like it says in that Beatles album. Here, watch while I spin this turntable backwards. The trick is doing it just right---"
Puhleeze.
However, this did get me thinking, and I think I found the image which haunts most supremacists' nightmares: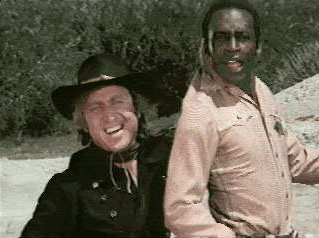 "Hey, where the white women at?"